Search results will appear here...
Explore the Chinese Herbs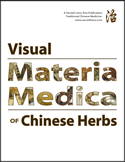 Used by students, teachers, practitioners, and doctors in universities and clinics around the world, the 'Visual Materia Medica of Chinese Herbs' is the de facto standard for Chinese herb photo identification.
Students use it to replace long hours in the herb room or having to carry herb samples. Doctors and practitioners can...
Read More
Buy The Book
"Don't even think about taking second year comps without this book. It's a gem. Easy to use, succinct, has the pertinent temperature info etc., and best of all you can memorize the photos while away from the herb room... get it for sure."
dang gui
fu ling
bai shao
bai zhu
chai hu
huang qi
gan cao
ban xia
chen pi
chuan xiong
huang qin
ren shen
zhi zi
dan shen
zhi mu
mu dan pi
dang shen
gui zhi
xiang fu
shan yao
huang lian
jie geng
wu wei zi
da huang
mu xiang
cang zhu
chi shao
sheng jiang
hou po
fu zi
huang bai
fang feng
sheng di huang
xing ren
shu di huang
bai zhi
sha ren
ze xie
ma huang
zhi shi
xuan shen
ge gen
niu xi
qiang huo
mai men dong