Visual Materia Medica of Chinese Herbs
The 'Visual Materia Medica of Chinese Herbs' is a concise, organized, and beautiful photo identification guide for over 350 common Traditional Chinese Medicine (TCM) herbs.
Buy This Book on Amazon.com »
Used by students, teachers, and doctors in universities and clinics around the world, the 'Visual Materia Medica of Chinese Herbs' is the de facto standard on Chinese herb photo identification. Students use it to replace long hours in the herb room or having to carry herb samples. Doctors and practitioners can quickly cross reference Latin, English, and Pinyin names, as well as glance at the Chinese characters, properties, temperatures, and channels

Sample Chapter - Herbs That Tonify Qi (2.8MB PDF)
Visual Materia Medica Book Features
32 herb categories, 112 Pages
Over 350 hi-res photos of the most common Chinese herbs
Table of Contents - Quickly locate sections
Indexed - Pinyin, Common English, and Latin
Each Chinese Herb Features
Pinyin name with tone marks
Common English name
Latin/Pharmaceutical name
Chinese name (Chinese characters)
Temperature scale
Channels entered
Herb properties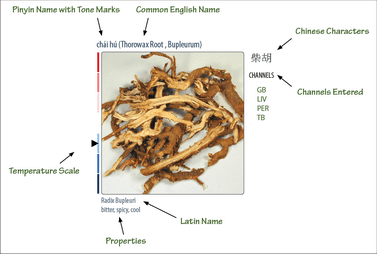 Book Sample Chapter (PDF)
This sample PDF includes the book cover, table of contents showing 32 herb categories/chapters, a sample chapter, and the pinyin, common, and latin indices.

Sample Chapter - Herbs That Tonify Qi (2.8MB PDF)

Review the 2nd Edition Changes (75Kb PDF)
Buy This Book on Amazon.com »